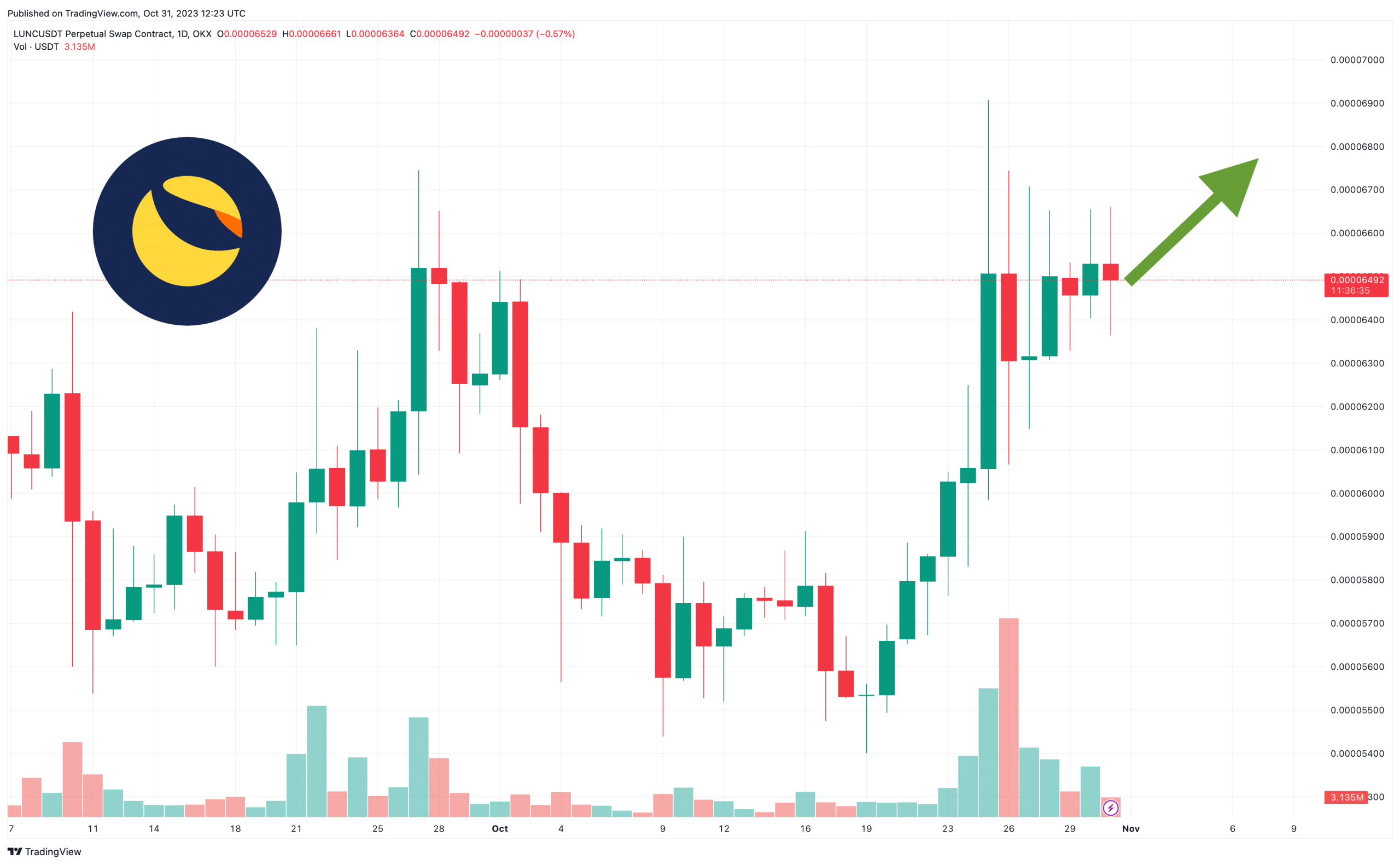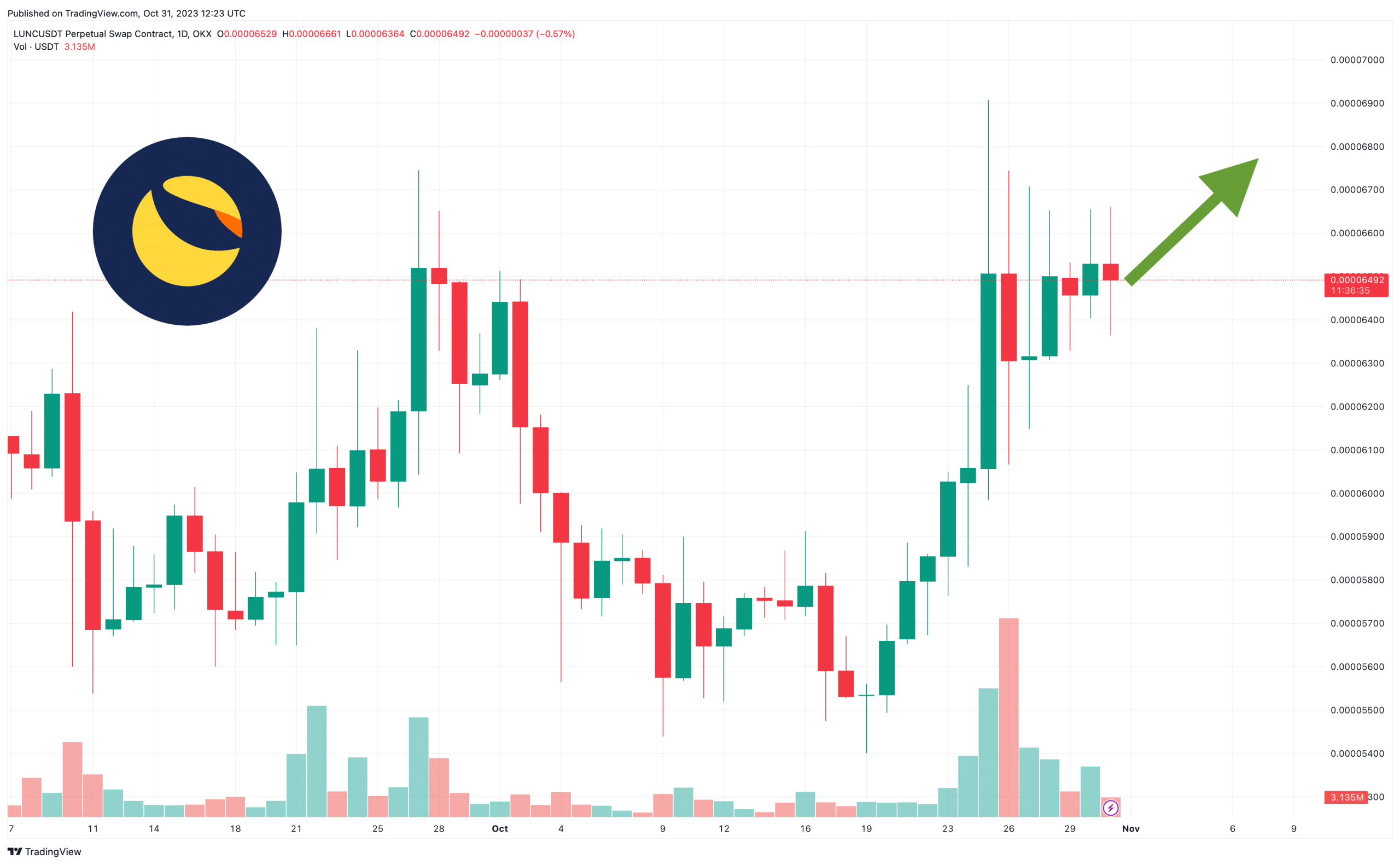 The Terra Luna Classic price has fallen toby 1.5% in the past 24 hours, after lawyers for Terraform Labs and its co-founder Do Kwon asked a New York judge to throw out the SEC's case against them.
At $0.00006493, LUNC has risen by 6% in a week and by 13% in a fortnight, yet it remains down by 73% in the last 12 months.
This latter decrease suggests that LUNC may be in the middle of a long-term decline, something which the above case against Terraform Labs isn't likely to help.
Yet with the surviving Terra Luna Classic community still working to boost the altcoin and its ecosystem, and it may still see further recoveries yet.
Terra Luna Classic Price Prediction as Do Kwon and Terraform Labs Lawyers Tell Judge They Did Nothing Wrong – Will LUNC Rise to $1?
While LUNC has had a bad year, its indicator currently look fairly promising, in that they suggest further gains.
Its relative strength index (purple) has remained at around 65 after reaching 70 last week, a sign of continuing buying interest.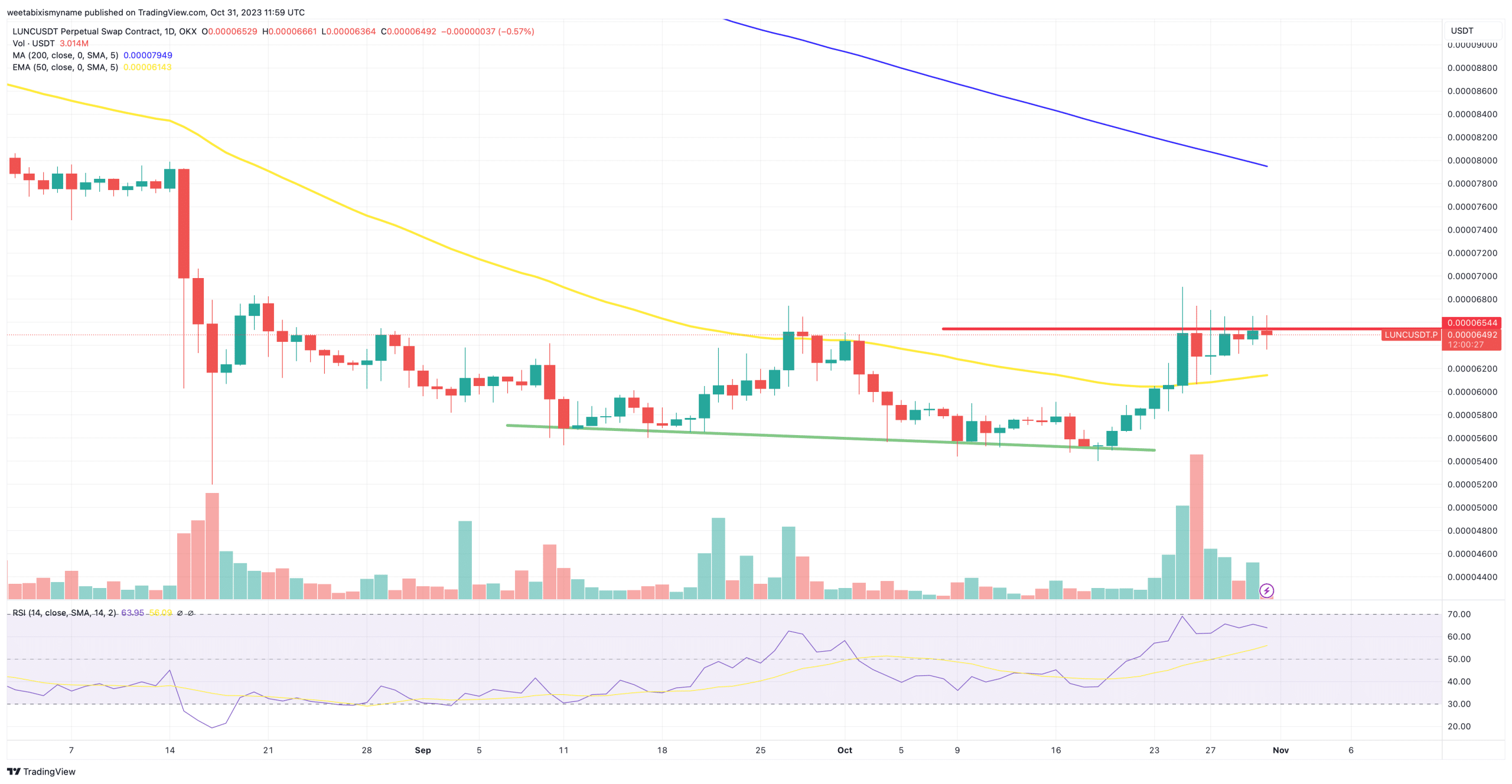 Its 30-day average (yellow) is also showing strength, rising towards its 200-day average (blue) and potentially signalling an incoming breakout rally.
That said, there are a couple of worrying signs that may given potential buyers some food for thought.
Firstly, LUNC's support level (green) has declined consistently over the past few months, and while its actual price is clear of its support right now, the recent past suggests it could fall back down if market sentiment sours.
Secondly, it's worth looking at the volume bars (in green and red) in the chart above, which show that the biggest volume spike in the past few days was for a selloff.
This suggests that holders are concentrating on exiting LUNC as soon as it provides them with any kind of gain.
This isn't a particularly encouraging sign for LUNC's future, although some observers may regard yesterday's attempted case dismissal by Terraform Labs attorneys as bullish.
⚖️📃 Do Kwon and Terraform Labs Submit Motion for Case Dismissal against U.S. SEC#Terraform Labs and co-founder Do Kwon have filed a motion against the U.S. SEC, seeking to dismiss allegations of multi-billion-dollar securities fraud. #CryptoNews #newshttps://t.co/puE0iiRAVS

— Cryptonews.com (@cryptonews) October 31, 2023
However, it's arguable that the judge will not grant the motion, leaving Terraform Labs and Do Kwon with the onerous task of fighting a difficult case.
This could damage LUNC, which is also heavily dependent on the Terra Luna Classic community making meaningful progress in terms of burning the coin's supply and boosting its ecosystem.
Yet for the most part, infighting between community members has prevented any real progress on these fronts, impacting the Terra Luna Classic price.
🚨I have voted NO on #LUNC proposal 11866

👇🏽PLEASE READ WHY?👇🏽

In my opinion, it introduces the Phoenix LUNC (PLUNC) point system in a way that raises several concerns. First and foremost, I'm skeptical about the impact of implementing a reverse split, which might end up… pic.twitter.com/9TYs3emaVH

— 🌠Lunanauts🌠 LUNC Validator (@Lunanauts_Lunc) October 31, 2023
As such, LUNC will need further market-wide rallies in order to rise further, since otherwise it could continue to slide.
More Promising Altcoins
Due to uncertainty surrounding LUNC, many traders may prefer to invest in higher potential alternatives.
Fortunately, there are a number of promising new alts in the market right now, with Bitcoin Minetrix (BTCMTX) being one of the most interesting.
Bitcoin Minetrix is a tokenized cloud mining platform that has already raised over $2.8 million in its presale, a figure which suggests plenty of market interest.
Another great milestone unlocked by #BitcoinMinetrix!

More than $2,800,000 raised! 🪙 pic.twitter.com/PoH28Wjd7x

— Bitcoinminetrix (@bitcoinminetrix) October 31, 2023
Due for launch in the next couple of months, the platform will enable users to mine Bitcoin (BTC) by staking its native token, BTCMTX.
Such staking provides users with tokenized mining credits, which holders can then use to purchase hashpower on the Bitcoin blockchain.
Staking enough BTCMTX can therefore provide users with mined Bitcoin in return, something which promises to widen access to Bitcoin mining and the BTC supply.
Embarking and discovering the ease of #Bitcoin cloud mining with #BitcoinMinetrix! 🚀⛏️

✨ Perfect entry point for beginners.
💸 Cost-effective, no equipment expenses.
🏠 Say goodbye to space, noise, and heat worries.
🔁 Effortless, seamless upgrades. pic.twitter.com/PvmKeOweCY

— Bitcoinminetrix (@bitcoinminetrix) October 31, 2023
This novel concept helps to account for why Bitcoin Minetrix's presale has already done so well, with new participants able to join by visiting the official Bitcoin Minetrix website.
BTCMTX will have a capped supply of four billion tokens, with 1.4 billion going to the presale.
At the moment, 1 BTCMTX currently costs $0.01130, with the price rising to $0.01190 by the sale's final (tenth) stage.
Yet given just how innovative and fundamentally sound Bitcoin Minetrix is, the token could rise much higher once it lists.
Visit Bitcoin Minetrix Now
Disclaimer: Crypto is a high-risk asset class. This article is provided for informational purposes and does not constitute investment advice. You could lose all of your capital.